ÇIRRMË ZOGJSH – Anthology of Women Poets in Albanian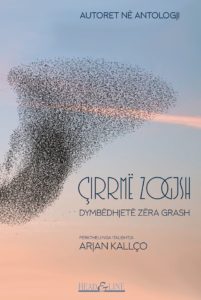 ÇIRRMË ZOGJSH
Compiled by Arjan Kallço
160 pp.
In Albanian published by Head & Line.
An anthology of poetry composed by twelve women poets coming from different countries (Italy, Romania, Greece, Colombia, Cuba, Malta and Morocco) translated into Albanese by Arjan Kallço for the first time.
Featuring works by Daniela Cecchini, Eliza Macadan, Elizabeth Grech, Emanuela Rizzo, Gerda Garcia Hernandez, Ida Di Ianni, Lucilla Trapazzo, Marina Pratici, Marisol B. Godoy, Stefania Romito, Sofia Skleida, Dalila Hiaoui, with a preface by Tatjana Vuçani and a bionote devoted to each poet.
It can be purchased online on t.ly/lT2y and soon available on various international bookstores.