Paġna Mmarkata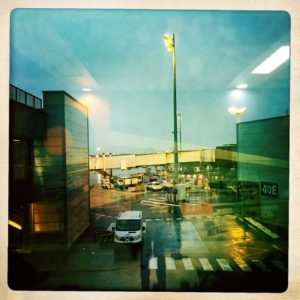 Paġna Mmarkata is a magazine in Maltese that can also be used as a bookmark.
Paġna Mmarkata hija rivista bil-Malti li sservi wkoll bhala bookmark.
Paġna Mmarkata est un magazine en maltais qui peut aussi être utilisé comme un marque page.
My poem "Orly" was chosen for the very first issue.
Orly
Ma ħarġitx demgħa waħda
imqar waħda
titrembel ma' ħaddejk
ma,
l-aħħar darba li wassaltek.
Qatra qatra,
żelqu kollha ġo griżmejk.
Tbissimtli,
imma fuq xofftejk,
rajt l-għajta muta
tirrakkonta l-firda kiefra
li ċċartek
kull darba li terġa' titlaq.
Orly
Pas une seule larme
pas même une seule
n'a coulé sur tes joues,
maman.
Goutte après goutte,
toutes ont glissé
dans ta gorge.
Tu as souri,
mais sur tes lèvres,
j'ai vu le cri muet
raconter la séparation cruelle
qui te déchire
chaque fois que tu repars.