Présentation de "bejn baħar u baħar" à l'Ambassade de Malte, Paris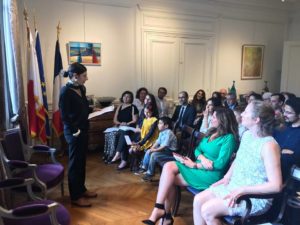 Le 6 juin 2019, l'Ambassade de Malte à Paris a accueilli la présentation de mon livre "bejn baħar u baħar" (Merlin Publishers) et celui écrit par Elizabeth Guyon Spennato, 'The Dream Life of Little Paul' (Faraxa). Cette soirée de lectures et d'échange, était une belle occasion de faire découvrir un brin de la littérature maltaise. Je remercie ma fille Lilia Parizot-Clerico, mes chères amies Marion Isvi, comédienne et directrice du Réseau Euromed France et aussi Lucilla Trapazzo, poète, comédienne et plasticienne pour la lecture de mes textes. Mais avant tout, je remercie Helga Mizzi, amie, ancienne camarade de classe au lycée et à l'Université de Malte et Ambassadeur de Malte pour avoir accueilli cet événement si chaleureusement.
The Embassy of Malta in Paris has organised the presentation of my book "bejn baħar u baħar" (Merlin Publishers) and the 'The Dream Life of Little Paul'(Faraxa) written by Elizabeth Guyon Spennato. The evening of readings was a beautiful occasion for the audience to get a glimpse of Maltese literature. I would like to warmly thank my daughter Lilia Parizot-Clerico, my dear friends Marion Isvi, actress and director of the French Euromed Network and Lucilla Trapazzo, poet, actress and artist pour the reading of my works. Above all, I thank Helga Mizzi, old friend, school mate at Junior College and University and current Ambassador of Malta in France for having hosted and organised this evening in such a warm way.