Ici arrivent les mouettes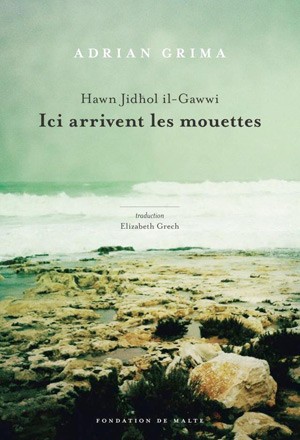 Collection of poems by Adrian Grima, translations by Elizabeth Grech, Fondation deMalte, 2012; 2nd edition 2017.
Recueil de poésies d'Adrian Grima, traductions Elizabeth Grech, Fondation de Malte, 2012 ; 2ème édition 2017.
This collection of poems reveals the relation of the poet with himself, his life experiences in space, his fascination for the beauty of nature, his reactions to social and political events.
Ce recueil est l'histoire de la rencontre avec le poète lui-même, ses expériences dans l'espace, dans la vie, son émerveillement de la nature, ses réactions à des événements sociaux, politiques.
« Au sein de cette polyphonie en mode mineur, la voix d'Adrian Grima, qui trace son sillon à mezzo voce, ne porte pas sur les contrastes bruyants, ostentatoires, si immédiatement perceptibles en Méditerranée. Elle s'attarde sur la densité des silences, l'empreinte d'un corps, le rouge d'un géranium, un rai lumineux sur une chevelure, l'attente, le jaillissement poétique, la fragilité de l'écriture. Infimes détails, faibles lueurs, certes, mais où se manifeste toute l'intensité de la vie. » Extrait de la préface de Philippe Parizot-Clerico
To buy the book/ Trouver le recueil
Reviews:
Ici arrivent les mouettes, un véritable hymne à la vie, Darine Habchi pour Fashion for Peace
Adrian Grima ou le vrai "goût de la Méditerranée", Marie-José Hoyet pour Babelmed